Duo-Safety Aluminum Ladders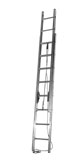 Choose Model Number:
Don't know the model number? Use the lists below to help.
Solid Beam Aluminum
Ladders have a solid outside rail. The channel rail construction provides the advantage of extra strength without cumbersome weight.
Truss Aluminum
Ladders incorporate tubular construction which uses a channel and "I" beam. Construction features include: double parallel fins; double set of truss plates; ribbed, extruded rungs.
« View more Duo-Safety Products