Printer
Friendly
Duo-Safey Pike Poles
Fiberglass

Specifications
Pole Diameter 1.75"
Part#
Length
Weight
2-FP
2'
1 lbs
3-FP
3'
2 lbs
4-FP
4'
3 lbs
5-FP
5'
4 lbs
6-FP
6'
4 lbs
8-FP
8'
5 lbs
10-FP
10'
6 lbs
12-FP
12'
7 lbs
14-FP
14'
9 lbs
16-FP
16'
10 lbs
18-FP
18'
12 lbs
20-FP
20'
14 lbs
PLEASE NOTE: Our pike poles are designed for push and pull applications. This pole is hollow, it is not intended to be used as a pry bar.
Duo-Safety Fiberglass Pike Poles have an extruded aluminum head for durability. The pole is hollow fiberglass with permanent molded-in yellow color. Available in 2' - 20' lengths. Lengths of 6' and under are able to ship UPS small package. Lengths of 8' and over must ship via LTL Freight. To cut shipping cost on single orders for 8' - 14' lengths, request United Parcel shipment of 2 part sleeved pole to be permanently assembled at destination. (Fee is charged for sleeving)
See our Fiberglass Price List for current pricing.
D-Handles for Pike Poles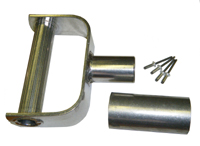 Part# FP-DH - D-Handle for fiberglass pole.
All welded aluminum construction. These large aluminum D Handles can be fitted to your in-service pike poles or ordered installed on new poles at the factory. The handle adds 4.25" additional length to the pike pole.
Head for Pike Poles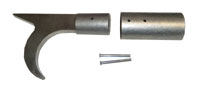 Part# FPH - Head for fiberglass pole.
« View more Duo-Safety Products