About Duo-Safety and it's History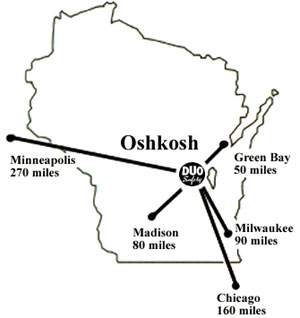 Duo-Safety Ladder Corporation is a privately owned company started in 1931 in Chilton Wisconsin and incorporated in Oshkosh Wisconsin in 1933. The Corporation has its roots with two families from its start in the early 1920's as a ladder manufacturer and remains in the last surviving family today. Duo-Safety is currently welcoming in the 3rd generation of management.
As one of the oldest and leading ladder manufacturers, we have had many milestones and product lines have come and gone gracefully to reach our primary focus on Fire Service Ladders today in Aluminum and Fiberglass. With this rich history came many facets of manufacturing high quality ladders, scaffolding and other products.
Within those humble beginnings was a booming business for the Oshkosh area showcasing product lines for industrial use in the 1940's and fire service use throughout our history. The industrial line included industrial step ladders, marine ladders, sectional ladders, scaffolding spans and folding ladders in aluminum and wood. The Fire Service line included wood and aluminum roof ladders, 2-section extension, 3-section extension, folding ladders, along with wood and aluminum pike poles and Boom truck Ladders. We also have a history of manufacturing ladder sections for aerial ladder manufacturers both in wood and steel in the early years to aluminum today.
The industrial line phased out in the mid 1970's and we produced and sold the balance of our materials for industrial ladders and wooden products by the late 1980's. The reduction and eventual discontinuation of wooden ladder products came with environmental concerns in the Northwest of the United States, the direct supply area for wood materials. Today, our wooden ladder products are used minimally around the United States(mostly for parade purposes), as they require a great deal of care and maintenance to keep them up to NFPA standards required. By 1988, Duo-Safety continued to focus solely on the Fire Service line in Aluminum and Fiberglass Ladders.
In the mid to late 1970's, the inception of NFPA (National Fire Protection Association) and other safety standards came into play. Our company decided to direct our focus on those efforts and remains today a key part of the core team for NFPA standards for Fire Service Ground Ladders as well as other affiliations with other Fire Service Safety Associations.
Duo-Safety Ladder Corporation has continued to provide quality products through time and we are very proud of our reputation in the field of fire service ground ladders. This reputation has been formed by the great staff of craftsmen and craftswomen we employ and their dedication to the products we manufacture.
Through time our product lines have shifted and over 80 years later we are still focused on the Fire Service needs and requirements for today. The Duo-Safety name has been known for many things through the years and quality and safety have always been at the core of those items. We hope you take some time to visit our website for further information on our products.